1 Lavender Hand Sanitizer
I've used this for a long time and take it everywhere with me. I always have one in my purse, one in the car and one in the diaper bag. Smells fabulous and doesn't majorly dry out my hands.
2 GG Scandinvian Fiber Crispbread
I love these healthy crackers with meals or for snacks, to help me stay fuller longer. I will spread peanut butter on them or egg, avacado and Everything But The Bagel seasoning. So good!
3 Winter Boots
I've been wearing these nonstop this Winter. and they were an absolute steal at only $40. They are true to size and very comfortable. I haven't sprayed them with a protector yet, but have been in the snow several times, and they still look brand new. They come in four shades.
4 Wireless Earbuds
These were a gift for Jared, and he loves them. He runs long distance, and has had several wireless pairs. These are by far his favorite. The quality and sound are great. He says they fit tighter in the ear than other brands. They don't feel like they're going to fall out. Also, the blue tooth connection is better than other brands he's tried. In the end, worth the splurge.
5 Vital Proteins Collagen Peptides
I've been using Vital Proteins about 6 months now and love it. It's great for your hair, skin and nails. They have a small size if you want to try it out first. It really is flavorless and dissolves in any drink hot or cold. Jared is now hooked on this, too.
6 OXO Cup
We have six of these, and they are truly the perfect transition cup. It took a lot of bad purchases to find a cup that is spill-free, has bite free straw, and fits perfect in Winston's hands. You can buy the smaller version with handles or this one, without handles.
7 Bamboo Initial Necklace
This designer dupe necklace is so pretty. I find myself wearing it almost everyday. Great quality.
8 Baby Safety Kit
I discovered Inaya when they gifted me a kit and I fell in love, using every single piece immediately. My favorite are the multipurpose locks that are on most of our drawers. I recently snagged a second set to complete the rest of the drawers and cabinets in the house.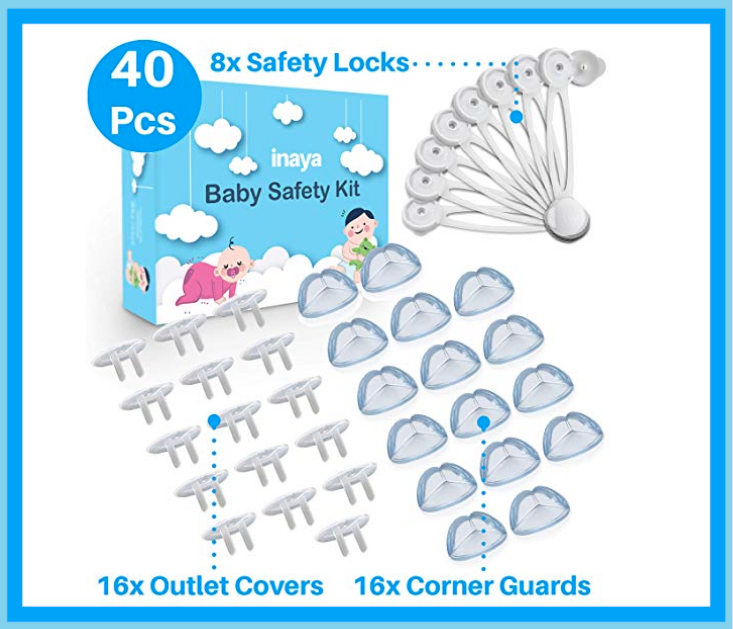 9
Bird Rock Baby Moccasins
These moccs are one of our favorite baby items. Winston has several pairs. They are 100% genuine leather and actually stay on his feet (amen)! The quality is so good and the brand has a 100% lifetime guarantee. I also love that every purchase feeds a child in need.
10 NEW BirdRock Baby Diaper Backpack
We use this diaper bag all the time. The below is the new and improved version #2. We own both 1 and 2. I love the insulated pocket for food and drinks and Jared loves the phone charger. I swear we always have more than we can carry. Being able to wear this, is super convenient. We own the navy version, but it also comes in a pretty grey shade. A few improvements to the new version include:
high grade metal stroller clips, easy to open (with one hand) zippers and extra shoulder padding for those longer trips. It comes with a 100% guarantee. You can't beat that.
11 iPad Case
This case has been a lifesaver for entertaining Winston. He can hold the handles, it has a strap to hang over the back of a car seat or over the stroller handles. There's also a stand that pops out in the back. Great quality.
Thanks for stopping by!
xo, Crystal Marie